TAEKWON-DO is a Korean art of self-defense. Before the founding of ITF International Taekwondo Federation by General Choi Hong Hi, in Seoul, Korea, on March 22, 1966, Korea's classical martial arts was called Subak. Today, there are many TKD organization world wide that promote Taekwondo.
At Bellevue Martial Arts Academy LLC, we continue to teach and practice the original system founded by General Choi Hong Hi, ITF Patterns. Master Hufana was taught the ITF system by Master Hoang Van Lam, who was taught by one of the top Korean masters that introduced the art in South Vietnam in the late 60's-70's. Master Hufana earned his 3rd degree black belt (International Taekwondo Karate Federation) on January 7, 1991. He later continued his training and ranking under Senior Master Jack Pierce (HTF), where Master Hurana later earned his 4th and 5th degrees and Master Instructor certification. Come in for your "First Free Class" and ask about our current PROMO!
Come join HTAI Academy and learn authentic Warrior Arts of the Philippines, aka ARNIS/KALI/ESKRIMA! One of the most lethal and highly effective self-defense and combative systems in the world, our HTAI ARNIS program is for students serious about developing their skills and knowledge. We accept all levels - beginners to the most experienced. Punong Guro Myrlino P Hufana, the founder and Grandmaster of the HTAI Fighting Systems has over 50 years of training, experience and development. PG Hufana will teach you as much as you can learn, and will teach those most loyal and dedicated the deepest of skills and knowledge in FMA.
Come in for your "First Free Class" and ask about our current PROMO!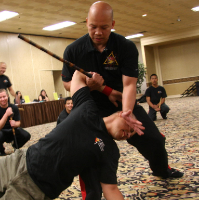 Don't have time to join our regular training schedule? No worries. We offer private training in FITNESS and SELF-DEFENSE! Our Personal FITNESS classes employ effective basics from martial-kicks, boxing, deadly-hands of ARNIS/KALI/ESKRIMA, incorporated with heavy bag work and variety of exercises. We also offer excellent SELF-DEFENSE courses for personal training or group course - beneficial for Real Estate Agents, Business Travelers, Stay-at-Home Moms, and anyone else who want to learn to avoid being a victim of a violent attack! This course utilizes techniques and methods primarily from ARNIS/KALI/ESKRIMA. Proactive is key to a successful self-defense!
TAEKWONDO Training Schedule:
KIDS (5-12), Monday & Wednesday, 5:30 to 6:30 PM
TEENS/ADULTS, Monday & Wednesday, 6:45 to 7:45 PM
ARNIS-KALI-ESKRIMA Training Schedule:
TEENS/ADULTS, Tuesday & Thursday, 6:15 to 7:45 PM