Grandmaster Ramiro U. Estalilla, Jr.
Rigoran Estalilla Kabaroan Eskrima
Fresno, CA
Grandmaster Conrad A. Manaois
Manaois Systems International (MSI)
Los Angeles, CA
Guro Scott Brennan
Lucay Lucay Kali-Brennan Blades
Friday Harbor, WA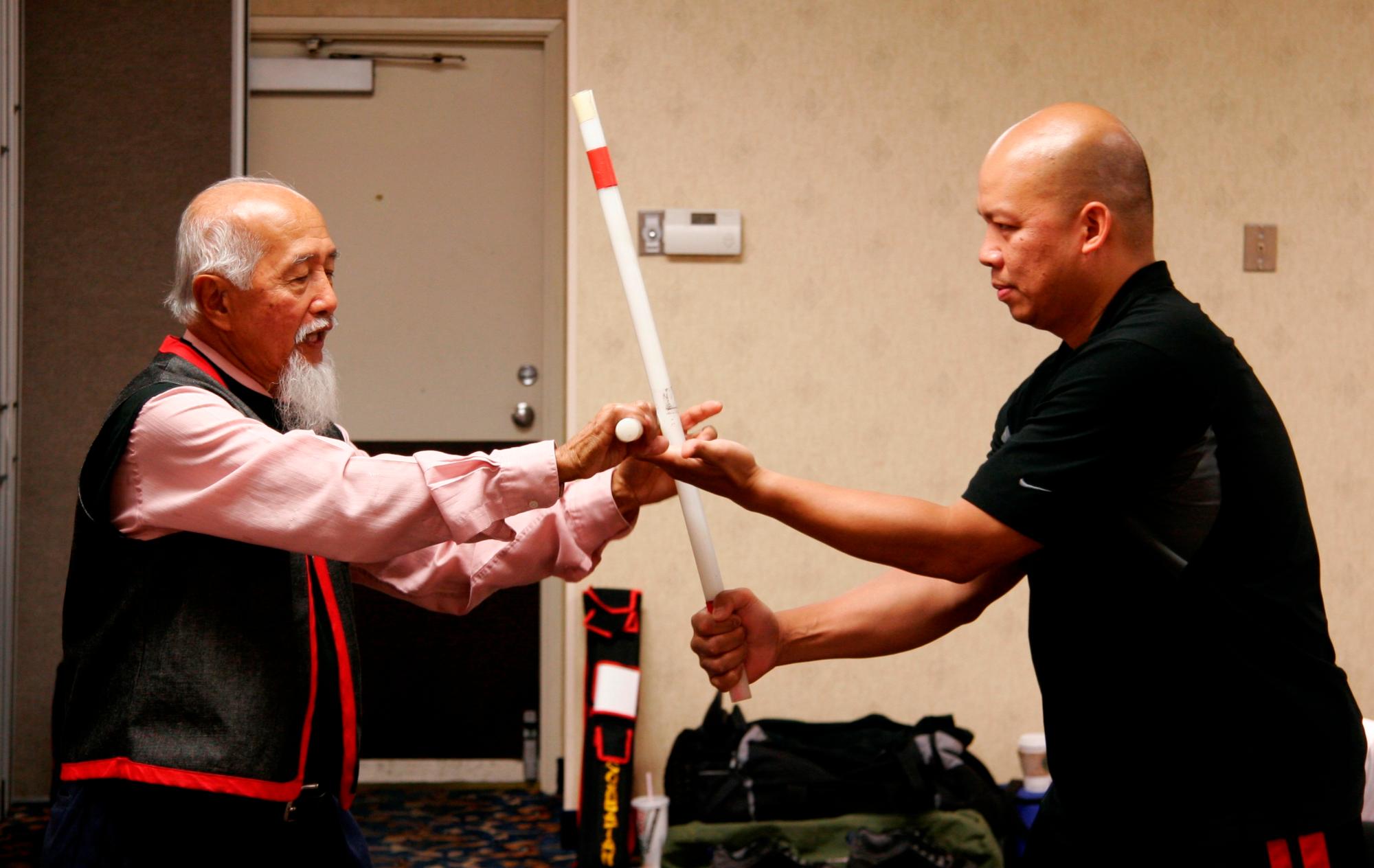 Master Ariel Flores Mosses
Combat FMA, MSI-SOG Lameco-Illustrisimo
Las Vegas, NV
Grandmaster Rodillo "Rodel" B. Dagooc
Dagooc Arnis System (DAS)
Smoking Sticks Arnis Cane Maker
Philippines
Grandmaster Bobby Taboada
International Balintawak
Charlotte, NC
"Guro Brennan is an extended member of my HTAI Family. He has an outstanding blade work and definitey wicked with the BALISONG. My students and I have used Brennan Trainers since 2001! I highly recommend Brennan Blades to all serious practitioners of FMA." - PG Hufana
"Roiles Gears are great! I buy the RGL Headgears, lightly skinned rattan sticks for HTAI Laban Laro sessions, and other multinode training sticks. They are durable and are made in Cebu, Philippines. Maraming Salamat Pare!" - PG Hufana
"I am very proud and honored to be GM Estalilla's friend and student and an Associate GM of Kabaroan Eskrima. Grandmaster has been a great inspiration to me, my family and my students over the past 15+ years. He is truly a wise, skillful Grandmaster. " - PG Hufana
"Grandmaster Manaois may seem quiet and unassuming until he explodes into action. The fluidity and effortless movements of his applications are mark of real Grandmaster. Congratulations on the 40th Anniversary of MSI!!!" - PG Hufana
"I met GM Dagooc in 2001 in Bellevue, WA just after the passing of his teacher, Grandmaster Remy Amador Presas (Modern Arnis founder). I have visited with him in the Philippines in 2005, 2007 and 2010, and each time I noticed he never seem to age. Manong Rodel is absolutely super fast! "Smoking Sticks" perfectly describe this man of honor, respect and great abilities. Looking forward to seeing you again soon. Mabuhay Po!" - PG Hufana
"GM Bobby is an incredible practitioner of Eskrima! He is well-known wordwide not only for his speed and power, but for his friendship and humor. My first meeting with Manong Bobby was at his Camp/Testing in Vancouver, B.C., sometime in 1999. He welcomed me with respect and his usual humor asking me, "who is more handsome, Remy or me." I knew right then we will be good friends. Best wishes to you Manong Bobby!" - PG Hufana
"I first met both Grandmasters Jerson "Nene" Tortal, Sr. and Jerson, Jr. in April of 2005. I had brought my top students at the time to meet/greet/dine/train with FMA's top Grandmasters in the world, in the birth place of Arnis/Eskrima/Kali. Among the many were two of the most genuine men I have ever met - GM Nene and Jerson, Jr. Not only are they the "real deal", but were also family-oriented; family and friendship were utmost important to them. We met again in 2007, and again in March 2010 for the filming of the "Voices of the Masters", in which DTS were one of the featured. In fact, I had invited GM Nene (Sr.) to take part at my annual world-class event - World Filipino Martial Arts Association EXPO & Laban Laro - held in Vegas. I have great respect for both GM Nene and Jerson Jr. and wish them both and DTS continued success in the generations to come." - PG Hufana
Grandmaster Jerson "Nene" Tortal, Sr.
Grandmaster Jerson Tortal, Jr.
Dekiti Tirsia Siradas (DTS)
Negros Occidental, Philippines
Sifu David F. Leong
Northwest Kung Fu & Fitness
Chinatown, Seattle, WA
"I have known Sifu David F. Leong for over 25 years now. I initially met his famous uncle, Grandmaster John S.S. Leong, the legendary Kung Fu master at a demonstration in Chinatown, Seattle; GM Leong was captivating and absolutely incredible! I met Sifu David couple years later at a fish market and learned that he was the nephew and student of GM Leong. We talked about our martial arts experience and the journey that we both were in. He has been a good friend since. We have collaborated several times on demonstrations and special events. Sifu David is an incredible Gong Fu practitioner and an excellent teacher." - PG Hufana
Grandmaster "Raja" Felix Roiles
Pakamut International
Roiles Gears, Long Beach, CA
"Master Mosses is family and has been for more 20+ years. He is a true Master of FMA. He is one of a select few with great skills in the edged and impact weaponry, possesing the rare ability to transition from close to long range in seconds. Visit him whenever you are in Vegas!" - PG Hufana